Gary Astridge is a long term client and friend of Island Ship Center. He loves the Beatles and has been collector since the age of 7. A few years ago, he had the distinct honor of traveling on tour with Ringo Starr, and then getting commissioned to make limited edition replica snare drum sets, just like the exact Ludwig set that Ringo used in 1963.
55 years later, on May 12, 2018, Gary traveled to Los Angeles to deliver piece #9 of 15 to Sir Richard Starkey himself!  The piece is called The Starr Festival, in tribute to the "1963 Ludwig Jazz Festival" of Ringo Starr.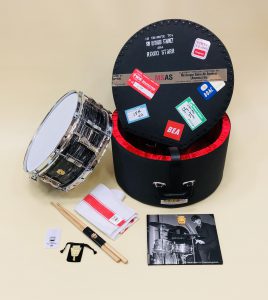 Proceeds from the sale of these drums will also be donated to Ringo & Barbara's Lotus Foundation charity.
Gary came to us to ask us to please pack each set carefully, so that the recipient can be delighted upon receiving them.  Since there are only 15 made in the world right now, that task was not easy!
After a few of the sets were delivered, Gary received an email from one of his clients and shared it with us. We were overjoyed! Here's the entire email from Gary and his client:
When someone purchases an extremely rare collectible (StarrFestival.info) for a serious amount of money and it involves a world famous celebrity, the pressure is on for every detail to be perfect. Packaging and shipping these items both domestically and internationally was a major concern for me. Two paramount factors that I required were protection and presentation. I wanted there to be a wow-factor when the item was delivered and when the box was opened. I needed a business that could uphold the standards that I had set for myself without worry or micromanaging. The team at Island Ship Center exceeded all expectations. Here's an email that I received from one of my clients:
Gary, I wanted to mention and thank you for the professional manner in which my Starr Festival snare drum was packaged. A box within a box, with double layers of large bubble-wrap between them, and additional packing material to fill up every space. The careful wrapping protected my significant investment and I greatly appreciate it. The drum arrived in perfect condition. The box too was undamaged. It took me some time to carefully open it, but it was like an early Christmas! Fun to unwrap! I've saved the box, and when it's time for me or my heirs to sell the drum, we will still (hopefully) have the box to send it off to its new owner. Thank you!
Here are more details about Gary, the drums and information for purchase:
Sold exclusively through Gary Astridge (Astridge International, Inc.)

Authorized and hand signed by Ringo Starr

Each drum will in part benefit Ringo & Barbara's Lotus Foundation charity.

Concepted and hand crafted by Gary Astridge in partnership with the Ludwig Drum Company.

Shells constructed by Ludwig incorporating original specifications.

Authentic and period-correct hardware harvested from '60s Ludwig Instruments.

Delivered in unique custom built '60's vintage case including unique accessories and certificate of authenticity.

A complete interview with Gary Astridge on this subject appears in the new Classic Drummer Magazine, Hall of Fame issue.  For a complimentary digital copy, sign up at classicdrummer.com.
With gratitude and effervescence,
Fahim & Seema Mojawalla, Co-Owners
Island Ship Center, Making the Mundane Extraordinary
#SpaOfShipping #ExudeExcellence #FahimFix
The post Beatles Fans, We Just Packed & Shipped Limited Edition Ludwig Replica Drum Sets Hand Signed by Ringo Starr – #SpaOfShipping appeared first on Island Ship Center.

Source: ISC Posts