IN-HOUSE GRAPHIC DESIGN & PRINTING SERVICES
From business cards to wedding invitations, posters to banners and everything in between, if you can dream it, we can design it, we can print it!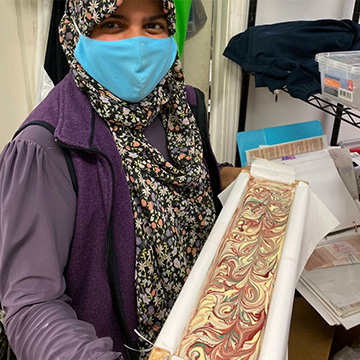 We are fortunate enough to have a full-time professional graphic designer on our team. Design jobs are done right, by Seema #SEEMASOLVES.
When the Island Ship Center team needs a new idea, an out-of-the-box revelation, or a reality check, we turn to our co-owner, Seema Mojawalla. She has a unique viewpoint that is always fresh, forward-thinking, and focused. Her passionate dedication to family, colleagues, team members, industry leaders, and friends is pure, and she uplifts us all with her tenacious kindness and gentle spirit.
Seema has an eye for merchandising and design and a passion for finding the perfect products to sell at Seema Boutique, inside Island Ship Center, which she co-owns with her husband Fahim.
With energy, talent, and an ability to stay calm in the midst of seeming chaos (or during one of Fahim's histrionic conference speeches), Seema's unique visionary approach to in-store design, product placement, and bold new profit centers allows her to sparkle and shine as our fearless ISC leader.