Please note our holiday closures this year:
For Christmas, we will be closed from Saturday, December 24th through Monday December 26th. We will reopen on Tuesday morning, December 27th, at 9 am.
For New Year, we will be closed Monday January 2nd and reopen on Tuesday morning, January 3rd, 2023 at 9 am.
We thank you for your continued trust and wish you peace, joy and blessings during this festive season. We wanted to end the year by sharing two recent heartfelt testimonials (out of 100s that we have received this year) from two guests. The first is from a mother in Michigan, who was traveling to Niagara Falls in the fall and left her two year old's iPad in the back seat of a cab on the way to the airport. The driver was kind enough to return the device back to the hotel, from where we picked it up, safely packed and shipped it. The second one is from Emily in North Carolina, whose parents are dear friends and mentors of ours on Grand Island. Her dad wanted to send some venison to her and entrusted us for the task, despite the December rush. Take a look at these images from each guest and share our gratitude for making memories for so many guests, through shipping, printing, mailboxes, sharing and caring.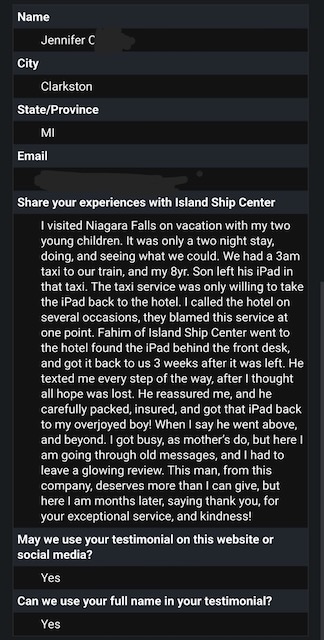 We thank you again for your continued trust and look forward to serving you soon.
With gratitude, empathy and respect, sprinkled with a bit of effervescence and solution powder,
Fahim & Seema Mojawalla, Co-Owners
Island Ship Center
#SpaOfShipping #FahimFix #SeemaSolves